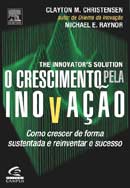 One more tip book, and this time is not a technical book. 🙂
It is a good book that talks about existing cases of growth through new products, analyzing how they develop and how to reach the market, may serve somewhat as a horizon for some people.
An interesting and recommended to help those who want to create reading or who have a product to launch.
Has here to sell. If you want a better price, Click here and take a look.